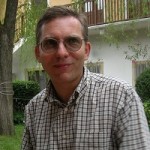 Gian Paolo Grassino was born in Torino, in 1960, where he studied electronic engineering and has been managing his own DTP business since 1988.
A UFO buff since his teen years, with local group CTRU, he had been editor of its newsletter (1978),  later merged into Clypeus journal Ufologia (1979-1984).
A former member of Centro Ufologico Nazionale between 1978 and 1985, he had been national secretary of CUN since 1981.
A founding member of Centro Italiano Studi Ufologici, he has been secretary of CISU (and a member of its council) 1986-2007, President since 2007 and the editor of its journal UFO – Rivista di informazione ufologica since 1986.
Since 1981 until 2005 he has also been editing a bimonthly (later: monthly) UFO newsclipping service (Notiziario Archivio Stampa) and he is coordinator of CISU Press Archives.
He authored an illustrated booklet (Il fenomeno UFO, Upiar, Torino 1990), co-edited CISU anthology Gli UFO – Quarant'anni di ufologia tra fantasia e realtà (Armenia, Milan 1987) and a Guide to Ufology (Ufo e ufologia, Upiar, Torino 2007), besides some hundreds articles and columns in several UFO (mostly Italian) periodicals, in the last 30+ years.
His mailing address is: Casella postale 82, 10100 Torino, Italy; phone: +39-011-8127445; e-mail: gp-ufo@iol.it