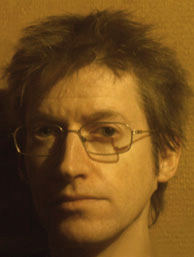 Born in Belgium (Flanders) in 1959.
Studied painting at the Academy of Fine Arts in Antwerp. Currently employed as a secretary at a lawyer's office.
Started off at the young age of 14 as a "field investigator" for the Studiegroep voor Progressieve Wetenschappen/Groupement pour l'Etude des Sciences d'Avant-Garde.
Headed the Studiegroep voor Vreemde Luchtverschijnselen and edited the group's journal (SVL Tijdschrift) from 1982 till 1987.
Initiated CAELESTIA in 1994 and launched the project's web site in 2007.
Co-author with Frits Van der Veldt of Unidentified Aerial Object photographed near Zwischbergen, Switzerland, on July 26, 1975 (CAELESTIA, 1995).
Contributor to various UFO magazines and books, including International UFO Reporter (J. Allen Hynek Center for UFO studies), UFO 1947-1997 (John Brown Publishing, 1997) and Ronald D. Story's Encyclopedia of Extraterrestrial Encounters (New American Library, 2001).
Special areas of interest within the UFO/UAP field: photographic evidence and identified case reports.
Areas of interest besides UFOs/UAPs: fine arts, especially painting and photography.
Postal address: Italiëlei 100/7B, B-2000 Antwerp, Belgium
E-mail address: wim.van.utrecht@skynet.be
Website: www.caelestia.be