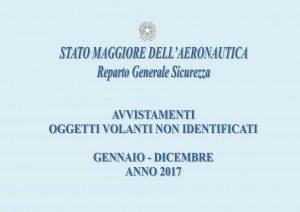 After the publication of CISU data about UFO reports collected in 2017, also the CUN (National UFO Center) published its data about UFO sighting report received last year (110 in all), confirming the downward trend not only compared to 2016 but also within the whole decade, unlike some sensationalist claims by some Italian media in early January.
Although less significant, the number of reports coming from Italy to the Mutual UFO Network (MUFON) Case Management System, which offers the best known online direct collection system in the world (7,686 sightings worldwide last year), remained unchanged (22 in 2016, 22 in 2017) but the language barrier makes it a very partial indicator for non-English-speaking countries.
Also the General Security Department of the Italian Air Force has now released the usual annual summary of reports of unidentified flying objects (UFOs) received in 2017 and for the first time since 1979 (when this service was started) no UFO sighting report has arrived to the Italian military for the whole year. As already noted in the past, in Italy – unlike other countries – the annual totals of UFO cases received by the government have always been much lower than those collected by private UFO associations, but a total of zero is remarkable anyway.