Greg Eghigian is a historian of human sciences and a professor of Modern History at Pennsylvania State University, with a known interest in ufology.
For over a year he has been working on a research project on a  global history of the UFO subject with particular regard to the evolution of UFO sightings phenomenon and of its study.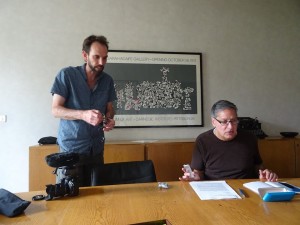 His usual summer tour in the old continent was therefore an opportunity for a visit to Italy, with his colleague Richard Sherman (who's teaching video making at the same university and is collaborating on the historiographical project with a documentary).
On June 11, Eghigian and Sherman arrived in Torino, specifically to meet and interview some CISU members and to visit Italian Center for UFO Studies  headquarters and archives (the second largest in Europe).
American researchers' Italian day has been articulated in three different moments.
In a first part, the stories and personal evolution of a few CISU members (Paolo Toselli, Paolo Fiorino, Edoardo Russo) were collected as video interviews,  with an exchange of opinions on the past and future of ufology – which highlighted strong philosophical affinities.
A second part  consisted of a general overview of the history of Italian ufology, followed by a guided tour of the CISU Archives, which amazed our visitors from overseas for the quantity and quality of the collected and organized documentation.
The meeting was also the starting point for identifying specific areas of collaboration, with particular regard to the historiographical aspects, which our association is particularly and actively interested in.
[In the pictures taken during the meeting at CISU registered office, from top to bottom: Richard Shermand  and Greg Eghigian preparing interviews; Eghigian talking with Edoardo Russo and Paolo Toselli; Eghigian interviewing Paolo Fiorino.]