In recent years, the percentage of close encounters on the total number of Italian UFO sightings has dropped significantly, even below 5%, i.e. more or less to 10 case histories per year. The rare cases of "UFO landing" reported by witnesses are therefore of particular interest.
The latest one took place on  July 7th, when an American tourist allegedly had an experience quite out of the ordinary on the Dolomite mountain path connecting two cabins near Auronzo di Cadore (in the province of Belluno).
The report was sent to the MUFON (Mutual UFO Network) Case Management System and we report its contents by summarizing what written by the witness, a professional photographer who was taking an evening excursion in the  Tre Cime di Lavaredo natural park, in order to take pictures of the sunset and later of the Milky Way.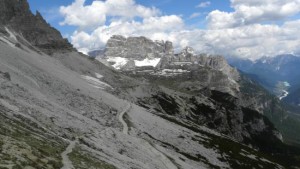 On the evening of Friday, July 6, the man had left his car in the parking of Rifugio Auronzo and had walked along the path climbing to Forcella Lavaredo for an hour's walk to Rifugio Locatelli, on the opposite side of Mount Paterno.
Around midnight he decided to get back along the path in total darkness, lit only by his torchlight.
Shortly before one o'clock A.M., after having passed Cappella degli Alpini (when he was now in sight of Rifugio Auronzo parking area) he turned back and was astonished to see "a large bright orb-like structure, consisting of many many bright lights, sitting stationary and silently" on the cliff edge about 170 meters away, where he had passed a few minutes before. He could not see a real structure but only the multicolored lights, which covered an area as large as a two-story cabin.
After a brief look at what did not look like anything known to him, literally terrified at the idea of having ​​been noticed because of his torchlight, the witness decided to run to his car. In doing so he turned back a few times, but renounced to take his camera out of the backpack to photograph the thing.
In hindsight, the man tried to make some hypotheses: a large tree with Christmas lights on, fifty+ drones hovering at that point, another cabin not listed on the map suddenly turning all lights on. None of these, however, persuaded or reassured him, and that's why he thought it might be a UFO.
The next day he sent his report to the American UFO organization, which opened an investigation file on the case, assigning it to  MUFON Italian branch.
In the pictures from above to below:
the three Cime di Lavarone at night (source: TripAdvisor);
– the path from Rifugio Auronzo to Forcella Longeres (photo by Marco P. from Tripadvisor);
– Rifugio Auronzo and its parking area, seen from the above path (source: it.wikipedia.org);
– witness' drawing illustrating his sighting (source: MUFON)]