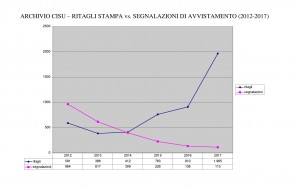 While UFO sighting reports by eyewitnesses are diminishing, the number of articles and items about UFOs in Italian media are strongly increasing.
In fact, UFO newsclippings from the Italian newspapers have more than doubled in 2017. This was announced by Gildo Personé, coordinator for CISU Press Archive: "During the year 2017, 1,965 clippings and news items from Italian dailies and weekly papers were collected, while they were 910 for the year 2016 and 763 those from 2015."
The comparison is even more surprising if we consider that the CISU has not renewed its 26-years long subscription to L'Eco della Stampa (Echo from the Press) newsclipping agency, expired in July 2017 and started in October 1990 (over 22,000 articles received). From that moment, the monitoring of Italian mass media is entirely based on the voluntary service of our members, which have already shown an even higher efficiency than the paid service, in the last few years.
It's often been claimed that the number of UFO sightings is related to how much (and when) newspapers talk about it. The contrary has been true in Italy: the number of press reports on UFOs has been steadily increasing in the last five years, while the number of UFO reports has always been decreasing. That fact drastically denies any correlation between those two variables, in spite of any superficial and unjustified sociologisms.